July

12

2012
What's up everyone? Between Fantasy Football and ruling the underworld, and working out by catching lightning bolts in my hand, I don't have much time to update this shit as much as I'd like, but today is a special ocassion. 
Unless you live in a pineapple under the sea, you may have heard about the Freeh Report? What is that you ask? Basically it is the judge confirming what a piece of shit Joe Paterno actually is. 
So, today, in honor of me being right all along about this fuck boy, I am blessing you with a post that will talk about what this situation is, how it affects us, and what the consequences will be. So, without further adieu, I present you with…
THE SAGA OF JOE PATERNO
WHO IS THIS JOE PATERNO AND WHAT DID HE DO?
Good question, Joe Paternity Paterno is a piece of shit who happens to be a great coach for the Penn Station State Nittany Lions. Joe Pa is looked at as a role model in the Penn State community and the god of football coaches. 
To address the next question, what did he do, the answer is simple.
NOTHING. 
Joe Pa didn't do shit. While Jerry San-Fuck-Me was banging little boys in the shower, Joe Paterno was protecting Penn State from bad press, all in the name of landing a recruit and not ruining the good name Penn State has established for itself.
FUCK JOE PATERNO, JERRY SANDUSKY, AND THE REST OF THE PENN STATE STAFF I DON'T GIVE A SHIT ABOUT OR KNOW THE NAMES OF.
ARE PEOPLE DEFENDING HIM?
You bet a child's asshole they are. The Joe Pa supporters are saying "He did everything he was supposed to", "Penn State killed Joe Pa", "He wasn't charged with anything, he's innocent".
Know who else is "innocent", you fucktards?
OJ Simpson and Casey Anthony…and possibly George Zimmerman 
"Casey Anthony didn't kill her child, NAW, someone murdered it, threw it in the woods, and blamed it on her maid."
Oh, and that whole month her child was missing, which she didn't report, she was getting WHITE GIRL WASTEDDDD OMGZZZZ. Yeah, she's innocent.
"NAW, OJ Simpson didn't kill his wife and that other guy. Naw man, no way." 
Yeah bro, yes way. 
"George Zimmerman killed Trayvizzle out of self defense, the media is brainwashing you"
Granted Trayvon was most likely a piece of shit, nobody deserves to get killed. 
Basically, people saying Joe Paterno is innocent just like to disagree with popular opinion. So forgive them and pray to Hades their child doesn't get molested and someone looks the other way.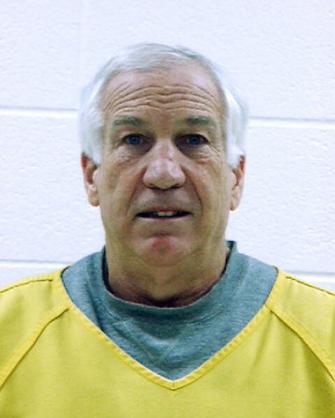 Sup fellas? 
HOW DOES IT AFFECT US?
Let me tell you a story, a week before the scandal - I swear, just a WEEK - I was playing NCAA with a friend of mine. I was thinking about Penn State because Joe Fuck just became the winningest neglector coach in the history of college football, and the following conversation took place:
——-
Me: Hey friend, you know who runs a clean program?
Friend: Who, you awesome human being that gets so many girls and I am envious of?
Me: Penn State. They never have recruiting scandals or any bad press. I love Joe Paterno, he runs an honest program.
Friend: I wish I could be just like you.
——-
Maybe it didn't happen EXACTLY like that, but I promise you I said those statements. 
But how does it affect us? We now have a new slang phrase:
"Pulling a Paterno"
Joe Paterno took not snitching to a whole new level, I respect him staying loyal to his brethren, but he is still a cock munch.
Next time someone tries to get you to snitch, simply say, "Nah man, I'm gonna have to pull a Paterno.
You wanna say something, but you have to bite your tongue, "I'm just gonna pull a Paterno".
You want your girlfriend to stop talking, "Hey baby, can you pull a Paterno"? 
BAM. 
Joe Pa has given the world the next "YOLO". 
WHAT ARE THE CONSEQUENCES OF JOE PA'S NON-ACTIONS?
GOOD QUESTION. 
As ruler of the underworld, Joe Pa's soul was brought down to me. At first I said, FUCK THAT. No way in my house will I ever have Joe Pa down here. But after a few minutes of clever bantering, I accepted his Ratatouille looking ass. 
Down here, I have been letting him get the shit beat out of him, which contradicts my rule of "No Bullying". And whenever he comes to me about getting bullied, I simply pull a Paterno and look the other way. I didn't see anything. Hehe ;)
But on a serious note, that cock gobbler is in the furthest depths of hell, next to where Ray Allen will be after he stabbed Boston in the back. 
So that's all I have today on my hate of Joe Paterno and my usual jab at the Miami Heat. 
Here's to hoping Sandusky lives for another 40 years. Because he will be spending that in prison.
And to the people who are defending Joe Pa, your spot down in the underworld is waiting for you. 
THE BICEPS OF HADES HAS SPOKEN.
ADD ME ON MYSPACE. FOLLOW ME ON TWITTER @HunterSaylor